to
Silver Angel Mandolins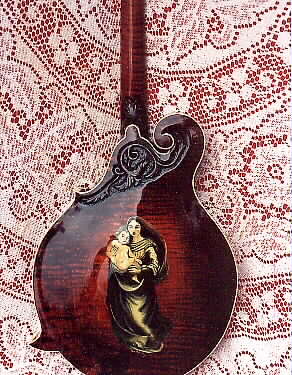 Introduction
Thank you for visiting my web site. My name is Ken Ratcliff and I build mandolins. They are called Silver Angel Mandolins™. They are very unique in design and distinctive in sound as you will see.I have been an artist all my life and have traveled throughout the world.I have studied art in Paris France and am currently a painter and luthier.I've visited all the major museums of the world,Louvre,Prado,Pushkin in Moscow,and I use every skill that I have in building my mandolins. Each one is a work of art in itself,Not only for it's aesthetic value but for its sound and playability. Of course a mandolin cannot only be a work of art to be viewed, but is a utilitarian object as well. It must perform. Each instrument is as individual as one person is from another. From the very begining, On the first day bending the sides for a mandolin, I can tell that this mandolin has its own personality already. It looks different, It has its own spirit, its own character. This individuality in my work is what makes my instruments stand apart. On the very best of my mandolins I will put oil paintings. They are tastefully done and do not detract from the overall character of the instrument. They complete the mandolin.They compliment the mandolin.
Also the relief carvings are unique to Silver Angel. They are not overly done, but tastefully complimentary.
Also unique to Silver Angel is the use of a third soundhole. with the X- bracing pattern this third soundhole is very stable and functional. They are only used on the very top of the line Silver Angel.
Of course custom orders are accepted and virtually anything can be painted on the back of a mandolin.
My prices range from $650.00 to the top of the line mandolin at $3000.00. Every mandolin has a lifetime guarantee to the original purchaser against structural defects.I also have an easy payment plan. Please inquire.
Some of the top musicians in the buisness use Silver Angel Mandolins™,Like Jesse Brock of the Lynn Morris Band,Shane Bartley of Unlimited Tradition, and Dan Kelly with Faith Hill. If you want a mandolin that will set you apart from the rest of the crowd and not just be like everyone else, then contact me, my prices are very reasonable or checkout my instruments at Fret-N-Fiddle or Gruhn Guitars in Nashville TN. Feel free to call me at (606) 286-8530.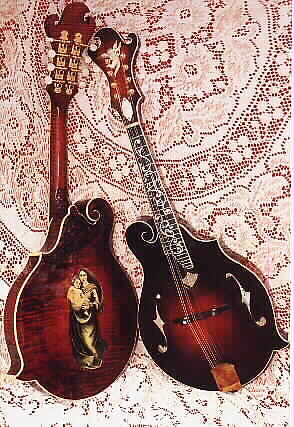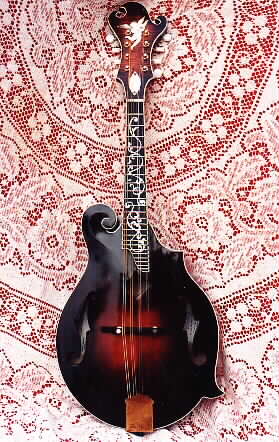 Name of mandolin: Left"Ingrid" ,Right "Maria Rita"
---
History on me
History on Mandolin
Mandolin Art Gallery
Ken's Art Gallery
Silver Angel Links
FOR SALE!!!!!!!!
Sign My Guestbook
View My Guestbook
This Many People Have visited this site.

LE FastCounter

Feel Free To Mail Me using this Link---->